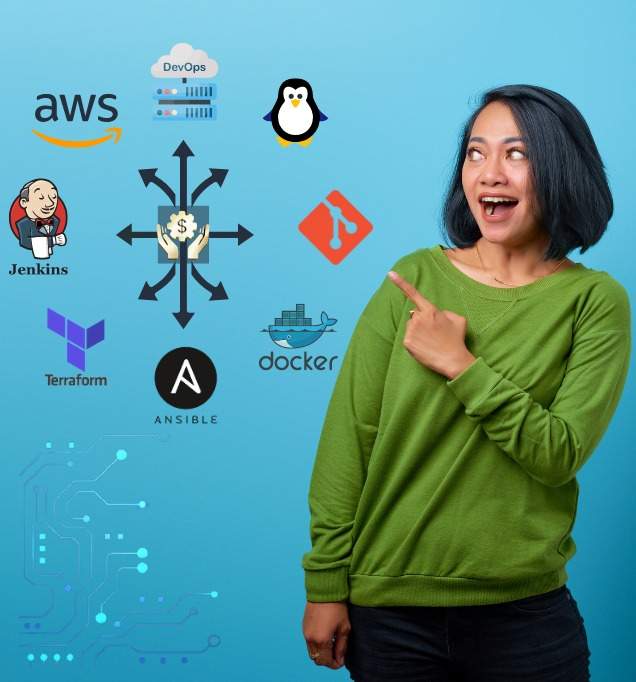 Course Description:
This is the only online DevOps course where you can have complete industrial knowledge and experience in automation. Our DevOps courses will give you not only the DevOps knowledge but also good hands-on experience of DevOps job's day-to-day activities. This course consists of 60 hours lesson followed by 120 hours practice session in the live project. This course is perfect for every beginner to experienced DevOps, as the course starts from scratch to a complete complex DevOps CI-CD pipeline
Learning Outcomes:
Over 60 hours of training and 120 hours of practice in a live project

LIVE PROJECT End to End Automation implementation with cloud, Patching, troubleshooting Training Included.

Learn DevOps and cloud (AWS) Automation basics from a professional trainer from your own lab.

Information-packed practical training starting from basics to advanced DevOpswith cloud  Automation techniques.

Best suitable for beginners to advanced level users and who learn faster when demonstrated.

Course content designed by considering current DevOps and cloud technology and the job market.

Practical assignments (type-1) of 2 hours at the end of every day's session.

Practical assignments (type-2) of 3 hours at the end of every Week module.

The practical learning experience with live project work and examples.
Prerequisites:
One AWS personal account for setting up the DevOps lab
Course Modules
LINUX Basics & Script
Top 50 command used in Linux

Linux File system structure

Basic Linux/Unix commands

Changing file permissions and ownership

Filter commands

Simple filter and advance filter commands

Start and stop services

Find and kill the process with id and name

Package installation using APT

Shell scripts
Introduction to Cloud computing:
What is cloud computing?

Characteristics of cloud computing

Cloud implementation models

Cloud service models

Advantages of cloud computing

Concerns of cloud computing
AWS:
Creating AWS account

Free tier Eligible services

Understanding AWS Regions and availability zones
   EC2 (Elastic Cloud Compute)
About EC2 and types, Pricing o EIP (Elastic IP address), Allocating, associating, releasing

Launch windows and Linux Instances in AWS

Connecting Windows and Linux instances from windows desktop and Linux machines
   S3 (Simple Storage Service)
About AWS Storage services, EBS and S3

Creating S3 Buckets and putting objects in the bucket

S3 Pricing

About S3 glacier
   EBS (Elastic Block Storage)
Types of EBS Volumes

Creation, attaching, and Detaching volumes
   ELB (Elastic Load Balancer)
Understanding the load balancing

Configuring ELB and adding the webservers under ELB
   Auto Scaling
Types of Scaling (Horizontal and Vertical)

Configuring Launch Configuration

Creating and defining the auto-scaling group policy
   IAM (Identity Access Management)
Understanding of AWS Security using IAM

Definition of Roles, policies, and Groups

Creating IAM Users and managing password policies
   RDS (Relational Database server)
About RDS and available RDS Engines in AWS

Configuring MYSQL RDS service

Connecting EC2 Instance to RDS Instance
   Elastic Beanstalk
Deploying Apps and RDS Connection

Updating Configurations and deployments

Systems Manager Parameter.
Introduction to DevOps:
What is Software Development

Software Development Life Cycle

Traditional Models for SDLC

Why DevOps?

What is DevOps?

DevOps Lifecycle

DevOps Tools
Software Version Control GIT:



What is Version Control

Types of Version Control System

Introduction to SVN

Introduction to Git

Git Lifecycle

Common Git Commands

Working with Branches in Git

Merging Branches

Resolving Merge Conflicts

Git Workflow
Build Automation Tool MAVEN:



Introduction to Maven

Installation & Configuration of Maven on Windows & Linux

Maven Repository

POM (Project Object Model)

Maven Structure – Dependencies, Build Profiles, Build Plugins
Maven Architecture – Maven Life Cycle
Demo – Creating a "Hello World" maven Project
TOMCAT Web Server:
What is Apache Tomcat
Difference between Tomcat and Apache Web Server
Installation and Configuration of Tomcat on Windows & Linux

Configuration of Tomcat Settings
Tomcat's Key Directories & Files
Start / Stop Tomcat Server
Demo – Deploy a Java Web Application into Tomcat
Code Quality Analysis Tool SONARQUBE
Introduction to SonarQube
Static Code Analysis
SonarQube and Continuous Integration
Types of Analysis
Quality Profile
SonarQube Configuration/Installation
Integrate SonarQube with Jenkins
Demo – build SonarQube Pipeline on Jenkins & Test the Deployment

Code Analyzing
NEXUS Artifacts Tool
Introduction to Nexus

Installation and Configuration

Access Nexus Repository Web Interface

Nexus Repository Management

Repository Format Types – Maven

Repository Types – Hosted, Proxy & Group Management

Integration with Maven

Security (Manage the authentication) – Privileges, Users & Roles
Upload artifacts to Nexus using Maven
Configuration Management Tool ANSIBLE :
Introduction to Ansible.

Install Ansible & Environment Setup


Ansible Components

Ansible Playbooks

Managing Variables
Jinga2 Templates
Implementing Roles
Implementing Ansible Vault
Writing YAML files
Ansible Modules
Provisioning Tool TERRAFORM

:
Terraform Introduction

Understanding Resources & Providers

Terraform Installation in Windows and Linux

Setting up AWS Account (Access Key ID, Secret Access key)

Terraform and EC2 integration

Interpolation, Attributes, Output values and Variables

Terraform Provisioners – Implementing remote-exec & local-exec

Terraform Modules and Workspaces (DRY principle)

Terraform resources Destruction

Terraform State

Labs

Creating AWS S3 buckets with Terraform
Creating AWS IAM user with Terraform
Creating AWS EC2 instance with Terraform
Installing HTTP server on EC2 instance with Terraform
Containerization Tool – Docker:
Introduction to Docker

Virtualization, Containerization, Containerization tools,
Docker Terminologies, Docker Lifecycle

Components of Docker Ecosystem

Installation of Docker

Common Docker commands
Creating Docker Hub Account
Committing changes to a Container
Pushing Images to Dockerhub

Docker image creation and Docker deployment.

Dockerfile
Running a sample Dockerfile
Docker Volumes
Docker Compose

Docker Swarm
CI/CD Pipeline – Jenkins/GitLabs:
Introduction to Jenkins
Concepts of Continuous Integration, Delivery & Deployment
CI/CD Environment
Pipeline concepts
Installation & Configuration
Jenkin's Master & Slave architecture and configuration
Introduction to Jenkinsfile
Jenkinsfile (Declarative Pipeline) & Pipeline Syntax
Jenkinsfile (Scripted Pipeline)
Plugin Integration
Capstone Project:
To integrate Terraform and Ansible over a Jenkins declarative CI/CD pipeline to provision an AWS EC2 instance, install Docker & Docker-compose to build and run the Application/APIs – Spring Pet Clinic – on the provisioned instance. Git tool will be used to fetch the application delivered on a project repository maintain in GitHub. AWS-CLI will be used to fetch the public ip address from the newly created instance and will be executed from a "dynamic_inventory.sh" script which will create an "inventory.ini" on the fly for Ansible to ssh login to the newly provisioned EC2 instance and install & configure Docker, Docker Compose to play the tasks to build and run the containers with the 5 microservices of the application – Spring Pet Clinic. The project will finally check the application over the web-browsers, to conclude the success of the project.
Course Features
Lectures

39

Quizzes

3

Duration

60 hours

Skill level

All levels

Language

English

Students

1417

Certificate

Yes

Assessments

Yes